By InMyOpinion on Jun 13, 2010 | In The Nation, Patriot Resources
"Educate and inform the whole mass of the people - They are the only sure reliance for the preservation of our Liberty." T. Jefferson

People don't swim through shark-infested waters, immigrate both legally and illegally, attend our educational institutions or seek medical treatment here because we are the "bad capitalists", villains or bullies on the world stage that many in this country would have you believe. We are lucky to be Americans. We enjoy a very high standard of living, access to quality education and medical treatment, a representative government, and offer the greatest opportunity to achieve whatever level of financial success you could possibly desire - for now.
---
---
Regrettably, far too many of us have taken the benefits we enjoy for granted. Some among us even believe we should be embarrassed about or feel guilty for our success. This is utter nonsense. Any nation guided the principles gifted to us by this nations founders could achieve a similar measure of success and in fact, by following our lead, some other nations are on just that path.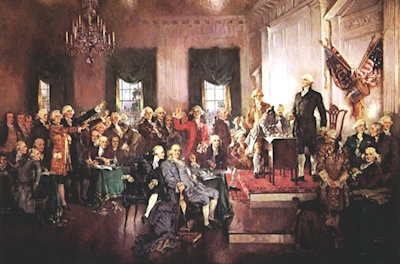 Are we perfect? Absolutely not. We are after all, a nation of humans - hence fallible. Of all the sins real and imagined foisted upon this great nation by detractors both inside and outside of our borders, our most egregious failure has been one of complacency. In taking for granted the great benefits our Constitution has bestowed upon us, we have failed to be responsible stewards of this most precious of gifts. We have also trusted that our elected officials were working on our behalf to make our nation better, free and stronger but all the while they have been working in their own best interests. We have been trusting and complacent and now we are in trouble. If we are continue to enjoy the boundless benefits we Americans have been privileged with, time is quickly running out. Me, You, all of us, must step up to the plate and take personal responsibility and immediate action to ensure that out great nation and the already eroding liberties we enjoy, are intact when our children's children are born.
---
---
Follow up:
With lives so busy, calendars bulging with activities, and our attention constantly bombarded with information other people want us to hear, we rarely have the time to seek out those quality resources that would help us in our quest to know our history and take action to secure our future liberties. Fear not, as we have undertaken what will be an ongoing project to identify, vet and make these resources available to you via our new Patriot Linkblog to make it easier for you to learn more about our history, the serious issues undermining our way of life and how to return to and preserve the freedoms that have made this country special.
This Patriot Linkblog includes a variety of fact based resources - watch dog organizationa like OpenSecrets.org that helps you follow the sources of money supporting various candidates and Thomas.gov that catalogs pending and passed legislation including the complete text of bills as well as who supported them. You'll definitely find some shocking and astounding information, without any spin, at both of these sites.
---
---
You will also find organizations and institutions of learning like the Heritage Foundation, Constituting America.org and the Cato Institute so that we might first learn and then remember why our founding fathers crafted our Constitution the way they did. We must all strive to reinvigorate the nation with a love of country and our founding principles. In some cases these sites give you the original source of these documents with commentary explaining the reasons these documents were written the way they were - not the skewed revisionist versions that the public education systems has been has been using to indoctrinate the last several generations. If you even doubt there has been a move to undermine the validity and sustainability of our Constitution, you need look only as far as our President who has actually said "It was these ideals that led us to declare independence, and craft our constitution, producing documents that were imperfect" and the recent affront promulgated by the A and D Publishing Company who added this disturbing warning message to reprints of our actual Constitution, The Federalist Papers and other important founding documents!
---
---
There is much more information for you to explore on your own on the Patriot Linkblog, let us wrap up by pointing out that while you may believe you are well informed and well served by popular mainstream television and print media, let me assure you that you or your children are only getting a small portion of most news stories, from a biased standpoint at best and many important issues are not even covered at all. This was recently brought to light by an editorial I recently read in my child's high school newspaper. The author of the article wrote a brutal piece lambasting his chosen victim in what I am sure he considered brilliant fashion. More disturbing than his populist attack on the "establishment" was the fact that the whole premise of his article, and the research he used to support his argument was entirely derived from a single "skit" from The Daily Show with Jon Stewart! While arguably humorous, the show is hardly an example of unbiased journalistic integrity if that actually exists anywhere today. Like many in the younger generations, he unknowingly confused this comedy program with a real news program. While in the interests of free speech I would be wont to deny the likes of Mr Stewart or Saturday Night Live their biased opinions or programs, it becomes even more important that we avail ourselves of news outlets such as PJTV.com, the World Net Daily and others that balance this kind of blatant liberalism with opposing opinions and ideas that we might be able to come to our own, clearly thought out and reasoned opinions.
"Unless you have looked at an issue from both sides, your opinion is not your own, just someone else's you have adopted because you couldn't be bothered to become informed." WeOpine.com
I fear for the future of our country and for the last several generations of our children who have been carefully indoctrinated into thinking of our Constitution as an imperfect "living document" requiring a warning or disclaimer and modified at the whim of the judiciary and the "legal precedent" rather than consent of the governed. Some members of the Supreme Court have even started to cite foreign or international laws as "precedent" to justify changing the laws of our country! Unless we first acknowledge that there are forces within this country that want to see our nation fail, we will continue to refuse to recognize and act upon the multitude of warning signs right in front of us every day. Make the commitment today, now, to put America and being an American first - ahead of ancestry, nation of origin or race. Put saving our country and the American Dream ahead of your personal self interests. Step back for just a minute and take in the bigger picture of what is going on in our country and the world and vow to do whatever you can to steer us back on the course set 222 years ago when our Constitution was written. If we continue to deride this document and turn away from the kind of America based on the rule of law and the twin foundations of individual responsibility and individual freedom(yes, including the freedom to fail) we will surely fail to pass on these gifts to future generations and worst of all, we will have failed that which is most dear to all of us - our families.
Remember these words from Ronald Reagan "Freedom is Never More Than One Generation Away From Extinction". Educate and compel yourself, your children, your extended family, friends and colleagues to do likewise. Now is the time to read, learn, discuss, persuade, take action, take responsibility and take back our country with the Patriot Linkblog ready to start you on your way.

Are You With Me?