Category: Welcome
By InMyOpinion on Jun 7, 2010 | In Welcome, The Nation
"Freedom has many difficulties and democracy is not perfect, but we have never had to put a wall up to keep our people in, to prevent them from leaving us." This stirring quote from JFK's famous "Ich bin ein Berliner" speech from 1963 has largely been forgotten, but we would do well to remember it's message as the current administration continues it's ongoing assault on America's traditional values of self reliance, opportunity and success.
---
---
By InMyOpinion on Mar 20, 2010 | In Welcome, The Nation
Dear Congressman,
PLEASE DO NOT VOTE FOR this so called health care reform legislation. I and my husband, and many of our neighbors are entirely against this legislation.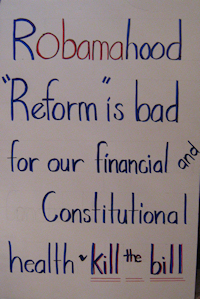 It is a sad day when our elected officials use the excuse that the ends justify the means while voting contrary to the wishes of the people and country they represent. You represent ALL the people in your district and I urge you to see a bigger picture of our country as it is being sold down a river of tears being shed by our founding fathers.
---
---