By InMyOpinion on Apr 3, 2010 | In The Nation, Patriot Resources
Update: Now we have to deal with the malicious and hate filled who are openly recruiting people to crash tea party gatherings and rallies in order to incite violence and discredit the movement as evidenced by the now defunct website "crashtheteaparty.org". The only free speech they want is their own.
As we count down to tax day on April 15th, I am once again reminded of an article I wrote last year about the first Tea Party I attended called Tax Tea Party a GOP PR Effort?. Things haven't improved much since then, in fact by some measures things have actually gotten worse - with little hope of reform in the near term. The national debt and budget deficit numbers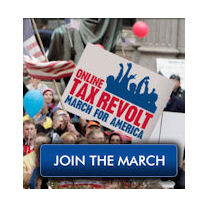 are so staggering that even the best educated and concerned citizen may really have little idea exactly how dire the nations financial condition actually is and can almost be excused for simply tuning out entirely. That is however fodder for a separate article.
---
---
Follow up:
It would have been impossible not to notice as of late, that many average citizens have taken to the streets expressing their dissatisfaction with the staus quo. Now you too can join with tax protesters locally or in Washington on April 15th without leaving the comfort of your own home. So whether you are simply unable to participate in person due to work or schedule obligations, or uncomfortable "coming out of the closet" of fiscal conservatism to have your voice "heard", take the time to visit http://www.onlinetaxrevolt.com/ and sign up for the country's first ever virtual tax protest march across America. It's unique and fun to select your own avatar (medical professional, senior, military etc.), join a "Team" of like-minded individuals (eg. Reagan conservatives, Joe the Plumber's Tea Party, Flat Tax team, Constitutional Conservatives etc.) and track your own progress in the march on a google map as you transverse the country on your way to Washington.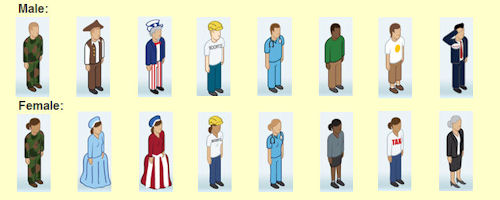 Along the way, you will find "yourself" surrounded by many other patriots trying to make a difference. Even though the site is the brainchild of Ken Hoagland who supports the "Fair Tax" concept of improving our current disaster of a tax system, the aim of the site is to be inclusive of all divergent tax ideologies, not to convert the visitor to his own solution perspective.
In addition to this virtual world, Hoagland hopes to integrate his virtual protesters with actual physical groups throughout the nation. In addition, upon reaching Washington, a petition will be delivered enumerating the names and cities of all the virtual marchers to further integrate the internet world with the "real" world. There have even been discussions about how to enable virtual particiapants to pose questions in this process. In a March 23rd HotAir.com Interview with Ed Morrissy, Hoagland explains the concept and goals of the online tax revolt very clearly and with a good amount of detail. WeOpine recommends you view the video at HotAir.com's site where you can also read Morrissy's article.
As of today 249,042 people have already registered to participate with Hoagland hoping to reach 500,000 by April 15th.
---
---
So, who are the folks serving as Team Leaders for this unique tax revolt? People, like you, who feel passionate about the out of control spending we are all paying for. They include:
Joe "The Plumber" Wurzelbacher - An Ohio patriot and Tea Party hero and voice for average Americans.

Mike Long - New York State Conservative Party

Michael Reagan - Eldest son of President Ronald Reagan, author, lecturer

Jim Martin - Founder of 60 Plus, "the conservative alternative to AARP"

Neal Boortz - Hall of Fame Radio Talk Show Host, author

Mike Huckabee - Former Governor of Arkansas and host of "Huckabee" on FOX

Dick Armey - a leader tirelessly fighting for lower taxes, less government, and more freedom for decades with FreedomWorks.

Grover Norquist - President of Americans for Tax Reform and author of "Leave Us Alone: Getting the Government's Hands Off Our Money, Our Guns, Our Lives"

Herman Cain - Atlanta talk show host, author and businessman


John Linder and Rob Woodall - Congressman John Linder (R-GA) and Congressional candidate Rob Woodall – Leading the Way for the FairTax in Congress

Jeb Hensarling - Congressman Jeb Hensarling (Dallas, Texas) a.k.a. "Rep. Budget Reform" and is the author of the Spending Limit Amendment (H.J. Res. 79)

Ken Hoagland - National Online Tax Revolt Chairman, author, former Communications Director of the National Committee to Preserve Social Security and
Medicare.

John McCain - John McCain is a U.S. Senator from Arizona and a longtime taxpayer advocate.

Dan Lungren - California's Congressman (R-CA) leading tax fighter in Washington.

Jim Jordan - Taxpayer champion and Congressman represents the 4th district of Ohio.

Dan Burton - Taxpayer champion and Congressman represents the 5th district of Indiana.

Todd Tiahrt - Taxpayer champion and Congressman (R-KS) – A leading voice against the bailouts and health care takeover plans in the House.

Saul Anuzis - Former Chairman of the Michigan Republican Party & Conservative Activist

Steve Curtis - State Director Ohio FairTax.

Rocky D - An independent voice of the south from WTMA in beautiful South Carolina.

Ed Emery & Chuck Purgason - State Representative Ed Emery (MO-R) and State Senator Chuck Purgason (MO-R)

Mark Gupton - Leader of the Florida FairTax campaign

Collin Hanna - President, Let Freedom Ring

Duane Parde - President National Taxpayers Union

Lew Uhler - President of the National Tax Limitation Committee

Phil Valentine - Westwood One Radio Host

Richard Viguerie - Recognized as a founder of the modern conservative movement, and he has been honored for empowering people of all political persuasions

Lynn Woolley - Formerly the Secretary of Logic and now the self-appointed Logic Czar. Radio talk show host Syndicated Across Texas.

Thayrone X - is a radio DJ and talk show host on WAAM in Ann Arbor in southeastern Michigan.
Here is your chance to have a little fun and join together with fellow "revolting" people (double entendre intentional in a nod to the far left's media conservative bashing). I'd love to see millions of people sign up - please share this article with your friends via email, facebook, twitter etc and make it happen.
Are You with Me?
---
---