By InMyOpinion on Mar 20, 2010 | In Welcome, The Nation
Dear Congressman,
PLEASE DO NOT VOTE FOR this so called health care reform legislation. I and my husband, and many of our neighbors are entirely against this legislation.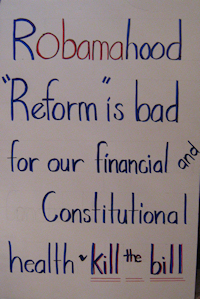 It is a sad day when our elected officials use the excuse that the ends justify the means while voting contrary to the wishes of the people and country they represent. You represent ALL the people in your district and I urge you to see a bigger picture of our country as it is being sold down a river of tears being shed by our founding fathers.
---
---
Follow up:
I believe in a hand up but decades of hand outs have only INCREASED peoples reliance on taxpayer funded programs further enslaving huge groups of our population. You must be a MODERN DAY ABOLITIONIST and help other to BREAK FREE of the enslavement of entitlement programs that are bankrupting my family personally and our nation.
You know it is very expensive to live in the metropolitan are with the state already taking several pounds of flesh and the town taking $20,000 a year for property taxes. Public employees around here like teachers and police receive obscene compensation that continues to rise all while people employed in private industry or self employed (my spouse and I) are being raked over the coals and told to dig even deeper in our pockets because we are allegedly "rich"!!!! Ha!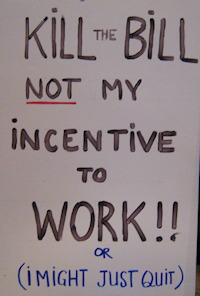 A take over of the student loan program AND healthcare rolled into one? I am astounded and appalled. Not only will I be leaving This state as soon as my youngest graduates from high school, I may even consider leaving the United States. The country has gone mad and so have you if you vote yes for this bloated, sleazy, dirty dealing bill and the process being used to shove it down our throats – WHERE IS YOUR HONOR???
---
---
America is no longer a place where the hard working are rewarded and everyone has an opportunity. Robamahood's "take from the rich.." ideology is turning our proud history of self reliance on it's head and bankrupting our country financially. PLEASE help turn this massive ship of state around and back onto the uniquely AMERICAN course that we were gifted by our forefathers. Let the Europeans live that entitlement lifestyle that saps innovation and breeds a malaise of spirit and soul. Keep America strong and a beacon of unbridled opportunity – you owe it to my children and your children.
Are You With me?
---
---