Tags: redeclaration of indepedence
By InMyOpinion on May 10, 2010 | In The Nation, Patriot Resources
Many among us feel the country has lost it's way, strayed too far from the principles outlined for this nation by our founding fathers. Some choose to do nothing about it, others strive to reawaken an awareness and passion for a return to Constititutional basics as a means to once again inspire us as a unique and exceptional republic. Once such person is William S. Beigh. In seeking to raise both our awareness of and appreciation for the original text of our founding documents, Beigh has penned what he terms a ReDeclaration of Independence. Written in the style and languaging of the original, the Redeclaration clarifies some of the original text, outlines how far astray we have gone and offers examples of how our elected officials have failed to uphold the oaths they took to work in concert with our Constitution for the betterment of all citizens. We have included a portion of his well written document below.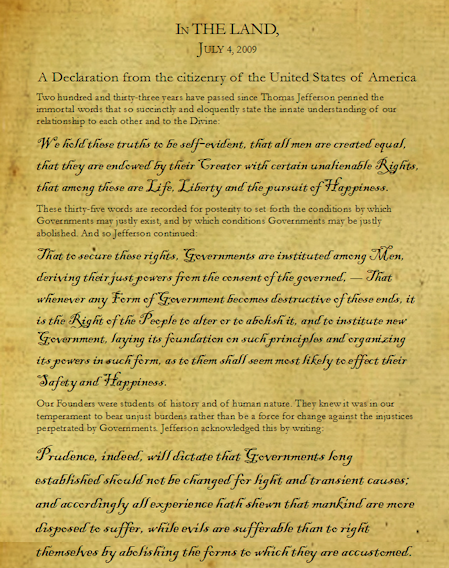 Understanding that that this graphic is largely illegible in it's present form, you can find the complete text of Beigh's treatise on our site in .pdf format here or you can visit Beigh's website These Self Evident Truths
We highly recommend all our readers take the time to peruse Beigh's work as part of a concerted effort to educate oneself about our nations history. Whether you agree with everything he says or not, (our founding fathers did not agree on everything, all the time either)the pages make for worthy and interesting reading for anyone who loves this republic and is concerned about the direction we are moving in.