Tags: thomas jefferson
By InMyOpinion on Oct 17, 2010 | In Know Our History, Patriot Websites & Blogs, Patriot Media, Patriot Events, Patriot Organizations, Patriot Education | Send feedback »
Link: http://www.heritage.org/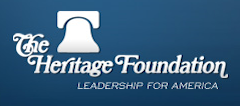 Founded in 1973, The Heritage Foundation is a research and educational institution—a think tank—whose mission is to formulate and promote conservative public policies based on the principles of free enterprise, limited government, individual freedom, traditional American values, and a strong national defense.
---
---
By InMyOpinion on Jun 19, 2010 | In Know Our History, Patriot Websites & Blogs, Patriot Organizations, Patriot Education | Send feedback »
Link: http://constitutingamerica.org/

"The Constitution is the guide which I will never abandon" George Washington
Constituting America's mission is to reach, educate and inform America's youth and her citizens about the importance of the U.S. Constitution and the foundation it sets forth regarding our freedoms and rights.
Here you will find the founding documents of our nation explained in easy to understand language and demystified by Constitutional scholars and guest blog contributors. A MUST READ for all true citizens and patriots. To date, The Constituion and the Federalist papers 1-34 have all been covered.
CA seeks to promote annul Constitution Day and Citizenship Day
Create school and community projects to enhance the understanding of the U.S. Constitution and the meaning of citizenship.
Create "Constituional Moments" for television showcasing celebrities and public figures discussing the Constitutin and it's relavance in Americans' lives.
Create a Constituting bus that will travel to towns and cities.
"An enlightened America regarding her roots, her basis, and her thesis is the key to America's pertinent survival. Americans have rights. Americans must have knowledge to understand them." Janine Turner Constituting America.com