Category: Patriot Events
By InMyOpinion on Oct 17, 2010 | In Know Our History, Patriot Websites & Blogs, Patriot Media, Patriot Events, Patriot Organizations, Patriot Education | Send feedback »
Link: http://www.heritage.org/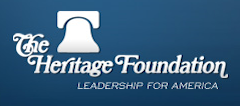 Founded in 1973, The Heritage Foundation is a research and educational institution—a think tank—whose mission is to formulate and promote conservative public policies based on the principles of free enterprise, limited government, individual freedom, traditional American values, and a strong national defense.
---
---
By InMyOpinion on May 8, 2010 | In Patriot Websites & Blogs, Patriot Events, Patriot Organizations | Send feedback »
Link: http://www.insideronline.org/index.cfm



A great website refreshingly free of annoying advertisements. With the tagline "Policy Ideas for Advancing Liberty" Insider online offers a wealth of good quality conservatively focused information across a wide range of topics. informative articles and policy studies will grow your knowledge of our country and the policies most beneficial to it's continuance. The well written blog is a great resource for broadening your knowledge on a variety of issues. An excellent calendar of conservative events touches on high quality meaningful opportunities to learn and network with like-minded individuals.
---
---