Tags: jihad
By InMyOpinion on Oct 6, 2010 | In Patriot Other | Send feedback »
Link: http://www.memri.org/content/en/main.htm
This excellent resource translates the Arab world into English so we can better understand how America is viewed an vilified by many in the Middle East. It is very eye-opening. Everyone should visit the site.
The Middle East Media Research Institute (MEMRI) explores the Middle East through the region's media (both print and television), websites, religious sermons and school books. MEMRI bridges the language gap which exists between the West and the Middle East, providing timely translations of Arabic, Farsi, Urdu, Pashtu, Dari, Hindi, and Turkish media, as well as original analysis of political, ideological, intellectual, social, cultural, and religious trends in the Middle East.
Founded in February 1998 to inform the debate over U.S. policy in the Middle East, MEMRI is an independent, nonpartisan, nonprofit, 501(c)3 organization. MEMRI's headquarters are in Washington, DC, with branch offices in London, Rome, Jerusalem, Baghdad, Shanghai and Tokyo. MEMRI research and translations appear in several languages - English, French, Spanish, German, Italian, Polish, Russian, Chinese, Japanese, and Hebrew.
By InMyOpinion on May 13, 2010 | In Patriot Websites & Blogs, Patriot Organizations, Patriot Education | Send feedback »
Link: http://www.actforamerica.org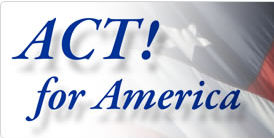 ACT! for America was created by a Lebanese immigrant to provide American citizens a means, through a citizen action network, to be a collective voice for the democratic values of Western Civilization, such as the celebration of life and liberty, as opposed to the authoritarian values of Islamofascism, such as the celebration of death, terror and tyranny.
---
---