Tags: free markets
By InMyOpinion on Oct 17, 2010 | In Know Our History, Patriot Websites & Blogs, Patriot Media, Patriot Events, Patriot Organizations, Patriot Education | Send feedback »
Link: http://www.heritage.org/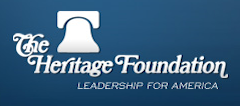 Founded in 1973, The Heritage Foundation is a research and educational institution—a think tank—whose mission is to formulate and promote conservative public policies based on the principles of free enterprise, limited government, individual freedom, traditional American values, and a strong national defense.
---
---
By InMyOpinion on May 8, 2010 | In Patriot Websites & Blogs, Patriot Organizations | Send feedback »
Link: http://www.alec.org
More than thirty years ago, a small group of state legislators and conservative policy advocates met in Chicago to implement a vision: A nonpartisan membership association for conservative state lawmakers who shared a common belief in limited government, free markets, federalism, and individual liberty. Their vision and initiative resulted in the creation of a voluntary membership association for people who believed that government closest to the people was fundamentally more effective, more just, and a better guarantor of freedom than the distant, bloated federal government in Washington, D.C.
---
---