By InMyOpinion on May 28, 2010 | In Patriot Websites & Blogs, Patriot Education | Send feedback »
Link: http://www.numbersusa.com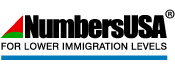 The average American truly cares deeply and passionately about ensuring that our immigration policies are carefully thought out and our laws are properly enforced and carried out. If you do too, you will want to visit NumbersUSA and join the over 1 Million citizen activists who have and do send free faxes online to Congress supporting more sensible immigration policies regarding both legals and illegals.
---
---
Follow up:
Far too often, the pro-amnesty movement and its media supporters declare that American citizens prefer amnesty and an open-border policy over enforcing immigration laws. But having 1 Million citizens fax, phone and visit Congress in support of our views sends a very different message. And this reinforces national polls that show that an overwhelming majority of Americans agree with enforcing immigration laws over granting massive amnesties to illegal aliens. Every voice and fax is vitally important to preserving so it is important to spread the word about this important organization that helps you get your opinions heard. It's quick and easy to send you faxes - go to the website today to try it out.
In addition, NumbersUSA (NUSA) seeks to grade all Congressional actions since 1989 that affected -- or would have affected -- the numerical level of immigration and illegal migration into the U.S. Each representative is then personally graded A+ through F- indicating their actions concerning whether they typically vote for policies that limit immigration (A+) or encourage an excessive and unrestricted influx (F-)of virtually anyone into our country.
NUSA's grades are based on a systematic, consistent set of principles that have been evaluated and reviewed by experts in immigration policy (including people from the State Department, Immigration and Naturalization Service, U.S. Commission on Immigration Reform, Census Bureau, congressional immigration committee staff, Members of Congress, several think tanks of differing immigration philosophies and a number of universities).
Feedback awaiting moderation
This post has 5 feedbacks awaiting moderation...

Comment feed for this post
Leave a comment