By InMyOpinion on May 13, 2010 | In Patriot Websites & Blogs, Patriot Organizations, Patriot Education | Send feedback »
Link: http://www.actforamerica.org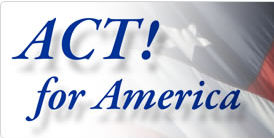 ACT! for America was created by a Lebanese immigrant to provide American citizens a means, through a citizen action network, to be a collective voice for the democratic values of Western Civilization, such as the celebration of life and liberty, as opposed to the authoritarian values of Islamofascism, such as the celebration of death, terror and tyranny.
---
---
Follow up:
ACT! for America was founded by Brigitte Gabriel, a Lebanese immigrant who came to the United States after losing her country of birth to militant Muslim fundamentalists during the Lebanese Civil War. Now an American citizen, Gabriel founded ACT! for America to give Americans their voice back.
That unique American voice, full of joy and anticipation of better days and infinite aspirations...muted by the scourge of political correctness. Muted by intimidation, as evidenced by the increasing use of slurs such as "Islamophobe" by Muslim apologists against anyone who dares to speak the truth about Islamic radicalism, terror and jihad. Muted by fear of lawsuits. Muted by fear of physical assault.
The ACT! for America vision:
* A citizen action network that aggressively promotes and implements educational programs that teach and enable citizen participation in the defense of America on the community, city, state, and national level.
* A citizen action network that is vigilant and quick to respond to anti-American and anti-Israel media bias and "politically correct" apologists for Islam in the media, academia and politics.
* A citizen action network that holds our elected officials accountable for defending and protecting the United States and its only democratic ally in the Middle East, the State of Israel.
* A citizen action network that promotes public policies and legislation that defend America and democratic values against the terror and tyranny of Islamofascism.
* A citizen action network that will partner with like-minded organizations to coordinate effective public relations campaigns to speak against media bias and religious bigotry wherever it exists:
In the western media - television, radio, and print media among the intellectual elite; on American college campuses; Churches, Synagogues and Mosques; on the local, state, and national level; worldwide.
As a well-informed and well-organized citizen action network, ACT! for America will be the front-line voice for freedom-loving Americans everywhere.
Feedback awaiting moderation
This post has 3 feedbacks awaiting moderation...

Comment feed for this post
Leave a comment