Tags: irs
By InMyOpinion on Apr 3, 2010 | In The Nation, Patriot Resources
Update: Now we have to deal with the malicious and hate filled who are openly recruiting people to crash tea party gatherings and rallies in order to incite violence and discredit the movement as evidenced by the now defunct website "crashtheteaparty.org". The only free speech they want is their own.
As we count down to tax day on April 15th, I am once again reminded of an article I wrote last year about the first Tea Party I attended called Tax Tea Party a GOP PR Effort?. Things haven't improved much since then, in fact by some measures things have actually gotten worse - with little hope of reform in the near term. The national debt and budget deficit numbers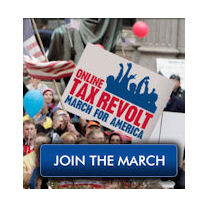 are so staggering that even the best educated and concerned citizen may really have little idea exactly how dire the nations financial condition actually is and can almost be excused for simply tuning out entirely. That is however fodder for a separate article.
---
---
By InMyOpinion on Mar 23, 2010 | In The Nation
As long as we continue to allow non taxpaying citizens to vote, we will continue to have socialists and their ilk being elected to guarantee the handouts they overwhelmingly demand. When the nations founders set forth the framework concerning voting privileges, they did so in a manner to align the resultant legislation with the needs and desires of those who would ultimately foot the bill. Restrictions on voting rights of slaves and women, were established in a such a way as to reflect their perceived economic contribution to the new nation, not as a ideological statement as to their individual worth as humans beings. In many respects, the actions of subsequent generations to open voting rights up to all citizens has perverted the intention of our forefathers. They knew that without a vested financial interest in the outcome of the legislation, it would be more convenient to make the easy "feel good" choices rather than the right and often difficult choices in matters of the Republic.
---
---