Archives for: November 2010
By InMyOpinion on Nov 17, 2010 | In Welcome, LifeStyle, Health and Wellness
In these uncertain times it's hard to decide what might be the best strategy to keep your assets safe. With interest rates at historic lows, traditionally safe investments like certificates of deposit (CD's) and money market accounts fail to look attractive. Depending upon your lifestage, recent surges in equities may look exciting, but if you believe we are headed for more uncertainty, risk may appear to be excessive. With the Feds recent round of quantitative easing (QE2) and the associated flooding of markets with billions of dollars, many are anticipating increasing levels of inflation that will erode buying power of cash holdings. This article from the National Inflation Association is truly sobering. Commodity prices are soaring as institutional investors seek to hedge their equity exposure by moving massive sums of capital into this marketplace. Everywhere you turn someone is recommending gold purchases as a safe haven investment and hedge against whatever is ahead, but at $1,400 an ounce, such an investment is beyond the reach of most.
What is one to do? Many have decided it is prudent to lock in the value of their dollars by purchasing an asset that offers much more security and peace of mind than any of the aforementioned traditional investment vehicles. This asset has intrinsic value regardless of economic ups and downs. This asset is in demand worldwide and in short supply in many places. This asset is readily available for purchase and easily acquired without huge broker fees but most investment advisers aren't even recommending it as part of their clients investment portfolio. What is this miracle investment? It's literally right under your nose - more precisely, your mouth. The investment? Food.

While most people will put their money into electronic and paper investments like stocks and bonds without blinking an eye, an "investment" in food storage raises an eyebrow or two - but why? Let's face it, food storage suffers from an image problem. It is undeservedly associated with being the preserve of wild-eyed survivalists and conspiracy theorists yet it makes perfect sense on so many levels. After all, no matter what happens, you can always eat food. In fact, you will always need to!
The modern "preparedness" movement may seem a mite "bunker mentality" but is really no more than sound and sane planning. Money in a savings account for a "rainy day" is lauded, encouraged even, but food for a rainy day is considered laughable. It doesn't make sense!
Some of the derision is based upon images of 60's area bomb shelters stocked with saltines and other questionable stores, or images of beef jerky or other highly preserved or tasteless offerings. Today, nothing could be further from the truth! Those in the military are already familiar with MRE's (meals ready to eat). While campers, scouts and their ilk are likely familiar with many of the excellent lightweight freeze dried meals available on the market today, newer players in the field have taken the concept of food storage to the next level. Shelf Reliance of Lindon Utah, has developed a line of freeze dried and dehydrated foods intended to serve the dual uses of everyday meal preparation and long term storage.
Sold by independent consultants, in a "home party" style format akin to Tupperware, guests are encouraged to join in the preparation of sample dishes as well as tasting them. While the company does offer complete reconstitutable meals, one major difference of their "Thrive" line is the huge number of individual ingredients offered by the company allowing for an infinite number of menu options that can be prepared. With more than a dozen vegetable choices (from sweet potatoes to celery) and a similar number of fruits (raspberries to mangos) you'll find a myriad of uses for these foods every week whether you need to supplement meals for unexpected company or want to diversify a meal with otherwise "out of season" foods. Other products include meats (chicken, beef, ham, sausage), dairy (eggs,butter, cheeses, milk, sour cream), grains (flour, pasta oats, etc.) plus basics like sugar, butter powder and beef bullion.
As a bonus to the unusually fresh taste, particularly the freeze dried items most of which contain no added ingredients or preservatives, the foods have a shelf life far longer than anything you can buy at the grocery store - some an incredible 30 years! In addition to the wide variety of quality foodstuff, Shelf Reliance Consultants also offer a diverse line of other preparedness products from first aid to automobile safety kits - plus other emergency essentials many of us, regretably, wait too long to purchase.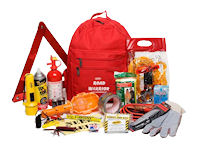 So whether you are someone with a second home wanting to "leave a little something behind" for your next visit, a single tired of food going bad in the fridge before you get to eat it, a family with changing food quantity requirements or seniors tired of all the peeling, chopping and dicing necessary for meal preparation, investing in food storage that can be used everyday, any day (as well as in an emergency) just makes sense. Depending upon your age course, you could even be eating this great tasting food well into your retirement and there is no "required minimum distribution" or tax implication in spending your "food investment" proceeds. Wow, who knew, food storage is good to eat and a great tax planning strategy!
---
Lee Keil is an Independent Shelf Reliance Consultant serving the New York metropolitan tristate area with the websites PanBParty.com and PlanBPreparedness.com. She is also available to present programs on a variety of emergency preparedness issues and can be reached at 631-255-8135 and via email to ShelfReliance@ThirdMill.com
---
I'm certainly planning to diversify my portfolio and put myself on a food storage budget plan - Are you with me?
---