Archives for: June 2010
By InMyOpinion on Jun 13, 2010 | In The Nation, Patriot Resources
"Educate and inform the whole mass of the people - They are the only sure reliance for the preservation of our Liberty." T. Jefferson

People don't swim through shark-infested waters, immigrate both legally and illegally, attend our educational institutions or seek medical treatment here because we are the "bad capitalists", villains or bullies on the world stage that many in this country would have you believe. We are lucky to be Americans. We enjoy a very high standard of living, access to quality education and medical treatment, a representative government, and offer the greatest opportunity to achieve whatever level of financial success you could possibly desire - for now.
---
---
Regrettably, far too many of us have taken the benefits we enjoy for granted. Some among us even believe we should be embarrassed about or feel guilty for our success. This is utter nonsense. Any nation guided the principles gifted to us by this nations founders could achieve a similar measure of success and in fact, by following our lead, some other nations are on just that path.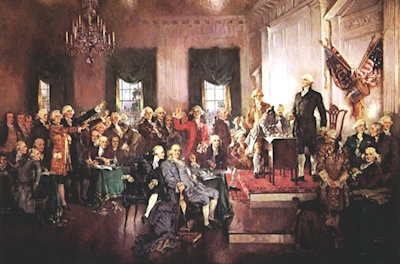 Are we perfect? Absolutely not. We are after all, a nation of humans - hence fallible. Of all the sins real and imagined foisted upon this great nation by detractors both inside and outside of our borders, our most egregious failure has been one of complacency. In taking for granted the great benefits our Constitution has bestowed upon us, we have failed to be responsible stewards of this most precious of gifts. We have also trusted that our elected officials were working on our behalf to make our nation better, free and stronger but all the while they have been working in their own best interests. We have been trusting and complacent and now we are in trouble. If we are continue to enjoy the boundless benefits we Americans have been privileged with, time is quickly running out. Me, You, all of us, must step up to the plate and take personal responsibility and immediate action to ensure that out great nation and the already eroding liberties we enjoy, are intact when our children's children are born.
---
---
By InMyOpinion on Jun 7, 2010 | In Welcome, The Nation
"Freedom has many difficulties and democracy is not perfect, but we have never had to put a wall up to keep our people in, to prevent them from leaving us." This stirring quote from JFK's famous "Ich bin ein Berliner" speech from 1963 has largely been forgotten, but we would do well to remember it's message as the current administration continues it's ongoing assault on America's traditional values of self reliance, opportunity and success.
---
---